搜索关键词:酒店灭鼠 灭蟑螂 灭鼠公司 杀虫公司 商场灭鼠防虫 工厂灭鼠
中国日报报导清波控虫公司CEO马大勇
---
---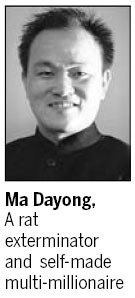 CHANGSHA - When restaurants have closed at night, Ma Dayong's work begins.
He checks the nearby area, hammers in a few nails to help fix thin iron wire into a trap that can carry 1,600 volts, then turns off all the lights and retreats quietly to a comfortable place to watch, and wait.
If lucky, he can stretch his legs out on a couch. Sometimes he makes do by taking short naps with his head on a dinner table. He is frequently woken up by alarms from the trap.
"We've got a catch!" Ma exclaims and hurries to the dark kitchen, careful to turn on his flashlight first and not to tread on the wire himself.
Ma is a rat exterminator, and his greatest gift to new customers is a large number of dead rats.
"More people see there is a growing market and constant demand for rodent control," Ma said, letting out a burst of resounding laughter.
Ma, 39, a self-made multi-millionaire inChangsha,Hunanprovince, has built an empire on poisoning and electrocuting rodents.
He landed his first order by offering a hotel free service for two months, and soon convinced the hotel owner of his skills after he caught 101 mice in one night.
"The experience was like going hunting and was really gratifying. I would put the poisoned bait along the route where rats often hang out, and minutes later I would come back to where I started and begin to pick up dead bodies," Ma said.
"The use of rat poison was unregulated 10 years ago and we used very toxic poisons," he said.
He won the loyalty of stores and supermarkets for promising to compensate them for damage caused by rodents that he should have eliminated.
Now he no longer has to offer free service to entice potential customers as orders just keep rolling in from inns, hotels, restaurants and stores.
His booming business gives him emboldened confidence to drive a white Benz painted with a bright red slogan.
"The Germans won't be too pleased to know how I've used their iconic luxury brand Mercedes-Benz to promote a humble business," said Ma with his typical self-assured laughter.
Ma got into the business in 1994 when he worked as an apprentice at a rat extermination shop inWuhan,Hubeiprovince. He later started up his own business and moved to exploreChangsha's uncharted market in 2001.
During his first months inChangsha, he aroused deep suspicions in his landlord, who thought he could be a thief with his long hair, worn-out clothes, sneaky manners and the black steel suitcase containing trapping devices that was always in his hand.
"People usually associate us with rat poison salesmen. I used to take offense and explain there is much more work involved. Now I don't bother," said Ma.
The Benz idea was the first major move toward uplifting his business image. He now carries the air of a successful businessman with a neat outfit, restrained voice, and confident but unassuming manners.
Because of the success of the business, he has pulled himself out of the day-to-day dealings with rats, and taken up employee training.
"Basic orientation for green hands is not my job. What I do is instill a little strategic thinking for those who already have some experience."
Ma defines three stages in the battle against rodents. First is an all-out war with "millions" of rat soldiers. In this case, heavy weapons, such as lethal poison in large doses, should be used.
After the rat population is considerably slashed, guerrilla warfare is unleashed to hunt down remaining groups. Finally, the task is narrowed to espionage, which requires extraordinary wits to outsmart and get rid of the final holdouts, Ma said.
Qin Zuojian, 30, deputy director of a nursing home in Yuhua district inChangsha, is grateful to have received free rat elimination services twice from Ma's company.
Rats used to be so rampant that people came across them in corridors and could hear their pitter-patter over the kitchen roof.
"Ma checked every suspicious place himself and demonstrated real authority in his field. He even spotted a little rat under a concrete floor near the lawn," Qin said.
The nursing home could not afford pest control service, and relies on government-subsidized poison.
"I hope Ma will keep his promise to motivate more employees to follow his lead in volunteering for community service," Qin said.
Ma said the fortune he has made can feed his family for 20 years.
When talking of his 12-year-old daughter and 9-year-old son, Ma said "they do not have to make it a family business when they grow up, unless they have a genuine interest in it."
China Daily
(China Daily11/09/2011page2)
---